Our Optometrists
Introducing Edward… Visiting Optometrist
Edward Farrant has a wide scope of practice within the profession. He has particular interests in acute eye care and glaucoma, and also works with the Opthalmologists at Musgrove Hopsital as a specialist optometrist. He also has a keen interest in general optometry and has expert knowledge in contact lenses. He has recently achieved the Diploma in Glaucoma and is also an independent prescriber.
Meet Gareth Dunn… Senior Optometrist
Gareth has now been a key part of our practice for over five years. Living in Bridgwater means he knows the area and patients well. He has gained experience across many different aspects of optometric practice, enabling him to provide high quality eye examinations. He has particular interests in managing acute eye problems as well as contact lens assessments and fits. Being a father of two he is also happy to examine children's eyes from any age, especially if there are concerns about their vision or eye health.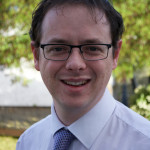 Welcome to Coraley Dunn… Senior Optometrist
Coraley Dunn joined us in 2018 and is a fabulous part of the team. Coraley too has undergone extensive training in various aspects of eye care but has particular interests in fitting all types of contact lenses and managing acute eye problems. Also as a mum of two she is more than happy to examine children of any age.